Red Chili's Restaurant Promotes Its Vietnamese and Thai Cuisines With Prosperb Media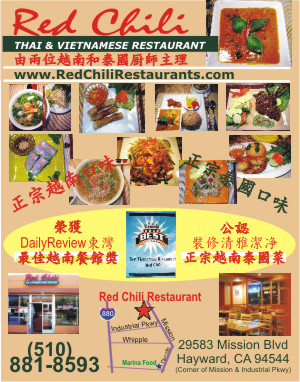 Red Chili's 5-star award winning fusion of Thai and Vietnamese dining is brought to you by a Thai chef and a Vietnamese chef with 30 years combined experience. Come visit us at 29583 Mission Blvd (Corner of Industrial & Mission Blvd), or call (510) 881-8593.

top
Christine's Fitness Promotes Its Workless Workout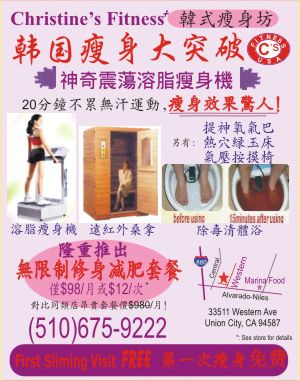 Koran style boutique fitness center, Christine's Fitness Plus, is promoting its popular Bio Shake Vibrexer - a fat-melting, body slimming shaker that shake off your fat while you stand. It also has added an amazing detox foot bath, that expells the unseen impurity from your body. Call (510)675-9222 today to sign up for a free try-out fitness session!

Mention this ad by "Prosperb Media" and receive a complimentary FREE first visit at Christine's Fitness Plus!

Address:
33511 Western Ave., Union City, CA 94587
top
Linda's Skin Care Promotes "Baby Yourself Today" Fall Campaign with Prosperb Media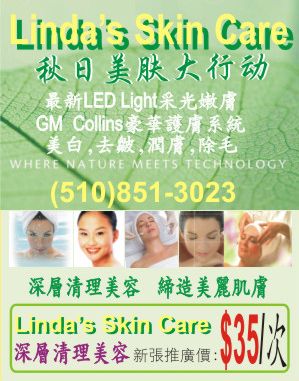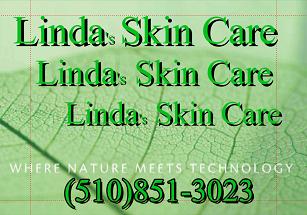 Linda's Skin Care features deep cleansing treatments, the latest LED Light photofacial, GM Collins facial system, body massage, waxing, and many other treatments. These relaxing treatments can reduce pimple, softening skin, build elasticity, whitening and reduce facial marks and remove facial hair. Call Linda at (510)851-3023 for a "Baby Yourself Today" appointment now!

Mention this ad by "Prosperb Media" and receive a complete introduction session at only $35!

top
United Youth Enrichment School (Lien He) Promotes Fall Registration With Prosperb Media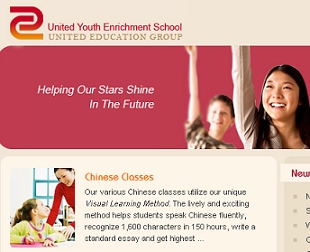 United Youth Enrichment School (Lien He Chinese School) all 4 branches are registering students for the 2007-2008 semester. The 4 branches are located at Alameda, Union City, San Leandro and Castro Valley. Classes include Chinese Conversation, Chinese Character Learning, Chinese Writing, Chinese SAT II. Call 510-206-5218 to register today.
top
Kohoutek Dental Continues Advertising With Prosperb Media
Kohouteck Dental, a state-of-the-art dental office grand opened last year across from the Union city Kaiser campus, has continued to promote its friendly and quality dental services with Prosperb Media. Located at the brand new facility at 29300 Kohoutek Way, #100, Dr. Guo and her team of specialists has been practicing at Union City for over 6 years, and serving the diverse local communities with friendly and quality services. She has earned a great reputation of being fast, thorough, pressure-free, and pleasant at her work. Call today at (510)324-4411 for an appointment to enjoy the brand new comfy leather dental chairs and the lounge-like facility. top
American Chinese School Invites All Levels of Students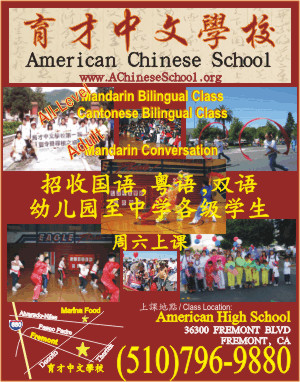 The American Chinese School has been in the Fremont American High School location for over 12 years, and have attracted 20 classes of different levels of weekend students to sharpen their Chinese languages, folk dancing, keyboard music, mathmatics and many other skills. It is the biggest school in the Bay Area that teaches Cantonese classes using text books from Hong Kong elementary schools. It also offers the most levels and variaties in Mandarin classes using text books from Mainland China. In addition, it has public speaking classes and bilingual classes for adults and younsters who want to practice Chinese as a second language. Call to register today at (510)796-9880, or visit http://www.AChineseSchool.org. top
QQ Noodle Grand Opens at Fremont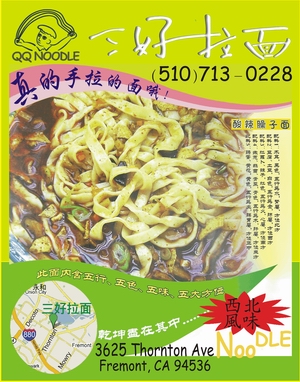 QQ Noodle is the first Chinese North-Western hand-made noodle restaurant in the Bay Area. They have over 30 noodle and specialty dishes, including the Sao-Zi Noodle, Ma-La Hot Spicy Beef Noodle Soup, Seafood Noodle Soup, and many more, all hand-made hand-stretched noodles! Visit them today at 3625 Thornton Ave. between Paseo Padre and Fremont Blvd. Call (510)713-0228 for To-Go ordering. top
Christine's Fitness Plus Grand Opens With Workless Workout And Fabulous Facial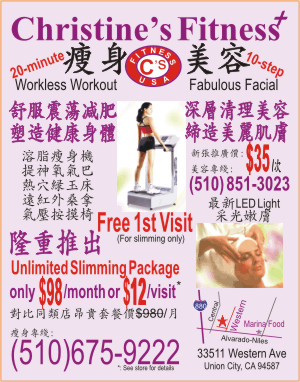 The long awaited Christine's Fitness Plus has grand opened both its boutique fitness center and its facial treatment department. This fitness center is located in the busy commercial district of Union City, and is an alternative natual fitness center for exercise, fat reduction, body shaping and health promotion.

Unlike the traditional fitness center where you have to work hard and sweat to achieve the results, at Christine's Fitness Plus, you just have to stand, lay and sit on their sophisticated machines to get in shape. It features 10 most popular Bio Shake Vibrexer fat-melting slimming shaker, that shake off your fat while you stand. It also has the Warming Meridian Jade Bed that achieve harmony and coordinations in your meridian. The high-end air-pumped and hydrolic massage chairs uses 2 systems to reach into and relax your muscles. The infared sauna uses special far-infared technology to burn fat and reduce weight. Don't forget to drink up the oxygen in their oxygen bar! Call (510)675-9222 today to sign up!

In addition, the Facial Treatment department features deep cleansing treatments, LED Light photofacial and many other treatments. These treatments can reduce pimple, softening skin, build elasticity, whitening and reduce facial marks. Call (510)851-3023 for an appointment today!

Mention this ad by "Prosperb Media" and receive a complimentary FREE first visit at Christine's Fitness Plus!

Address:
33511 Western Ave., Union City, CA 94587
top
APAC Sports Grand Opens 8 Badminton Courts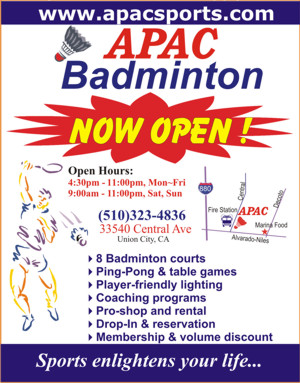 APAC Sports has grand opened 8 indoor badminton courts in the heart of Union City. The courts feature player friendly lighting, 5mm-thick Haokang specialty court mat, ping-pong and table games, pro-shop and rental, as well as coaching programs. The membership is very affordable, and the promotional package is extremely enticing. Visit APAC Sports' website at www.apacsports.com or call (510)323-4836. Don't forget to sign up a membership before the promotion ends on 2/11/07. top
Furniture Express Offers Free Gift With Purchase Over $200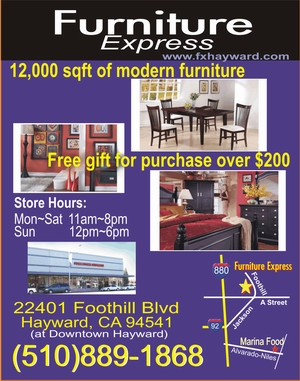 Furniture Express at downtown Hayward has appointed Prosperb Media to expand its website and promote its store presence. The 12,000 square feet showroom and warehouse in the heart of Hayward downtown features thousands of furniture pieces from its living room, bedroom, dining room, kids room and entertainment unit collections. It provides huge selections from famous brand names like Ashley and Millennium. Please check out their website at http://fxhayward.com for internet specials, and shop at their store for a free gift with any purchase of $200 or more. Call Tim at (510)899-1868 if you have any question. top
Bin2 Optical Becomes The 1st Advertiser At The 2nd Marina Food Lightbox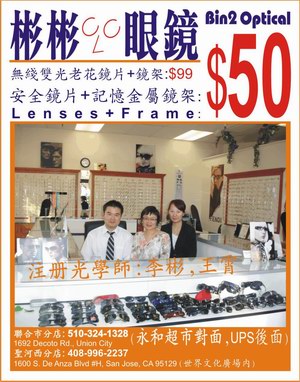 The newly opened Bin2 Optical, a new branch of the successful Bin Optical at Cupertino, has signed up to be the 1st advertiser of the new Marina Food lightbox. The great location and visibility of the 1st lightbox at Marina Food has generated a lot of buzz and attraction to local shoppers, and has brought great results.

At the 2nd lightbox, Bin2 Optical will be able to effectively advertise its superior optical products and friendly services. Bin2 Optical offers progressive bi-focal with frame and lenses for $99, and Flexi frame and tempered-glass lenses for only $50. Give them a call at (510)324-1328, or visit them at 1692 Decoto Rd. across from Marina Food at the Safeway plaza behind the UPS store.
Kohoutek Dental Grand Opening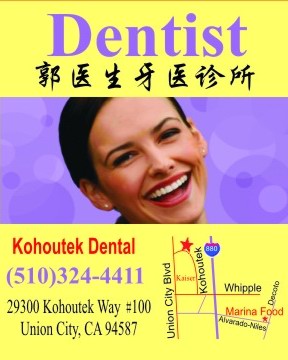 Dr. Anna Peirong Guo, a long-time customer at Prosperb Media, has grand opened her new state-of-the-art dental office at 29300 Kohoutek Way, #100, across from the Union city Kaiser campus. She has been practicing at Union City for 5 years, and serving the diverse local communities with friendly and quality services. She has earned a great reputation of being fast, thorough, pressure-free, and pleasant at her work. Be one of the first to visit and enjoy the brand new comfy leather dental chairs and the lounge-like facility. Call today at (510)324-4411. top
Union City Marina Food To Open 2nd Scrolling Lightbox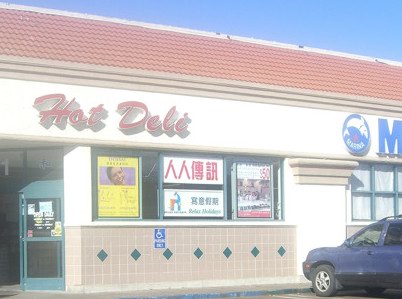 Prosperb Media is proud to present a second scrolling lightbox at Union City Marina Food. Due to the wild success of the first scrolling lightbox at this location and popular demands, we will open another scrolling lightbox one month before the planned date, just in time for Christmas, New Year and Chinese New Year.

Lion Food Center Has Selected Prosperb Media As In-Store Lightbox Provider
LION FOOD CENTER

The Lion Food Center supermarket chain with 6 stores in the Bay Area, has selected Prosperb Media as the provider of their In-Store Lightbox initiatives. Prosperb Media is the leader in lightbox advertising, a new way of bringing information to consumers that is powerful, closeup and in their languages. Lion Food Center Chain and Prosperb Media together will take In-Store Lightbox Advertising to a new level.
New Tang Dynasty TV Signed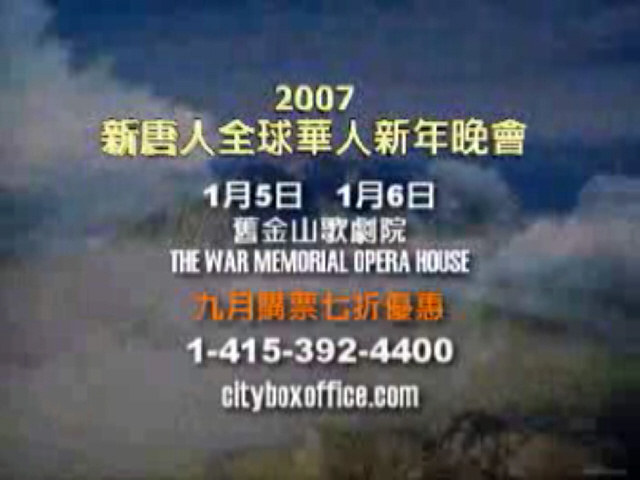 New Tang Dynasty TV has signed with Prosperb Media to announce its 2007 Chinese New Year Spectacular Show, to be held on 1/5/2007 to 1/6/2007 in San Francisco War Memorial Opera House. The show brings together the granduer of authentic Chinese music and dance, with classic holiday performances. It is a gift to the people of the Bay Area to share with family and friends. Call (415)392-4400, or visit http://www.CitiBoxOffice.com for tickets.
Golden Stone Inc Signed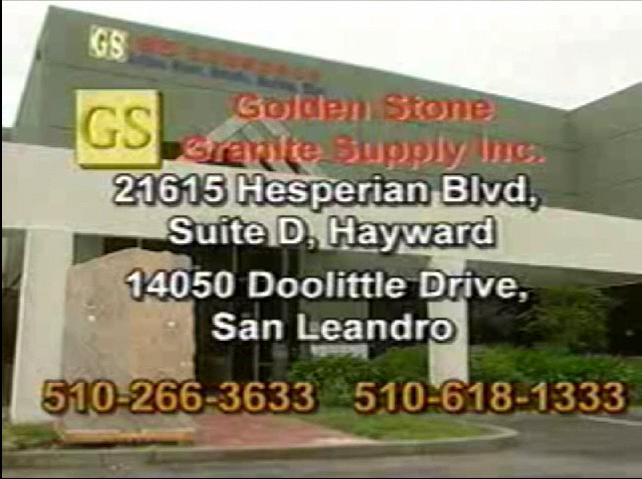 Golden Stone Inc. has signed with Prosperb Media to promote its superior services on granite, marble, tile, cabinet, fireplace fabrication and installation. They have thousands of items to choose from, and 2 convenient locations at the east bay. Visit their showroom and warehouse at 21615 Hesperian Blvd Suite D Hayward, CA 94541 (510)618-1322, or 14050 Doolittle Dr., San Leandro, CA 94577 (510)618-1633. top
Abacus Realty & Loan Signed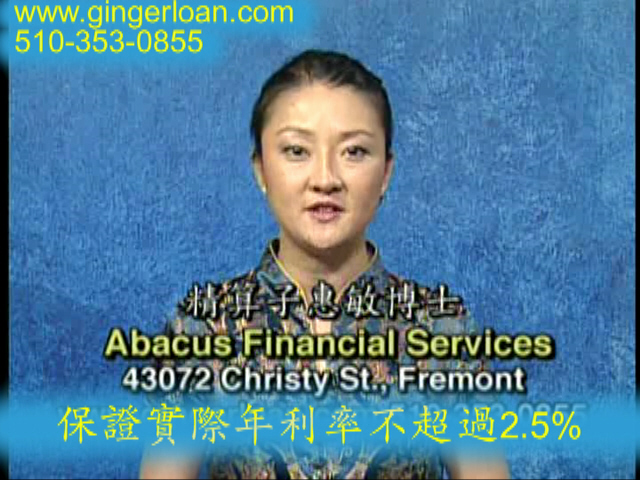 Abacus Realty & Loan has signed with Prosperb Media to increase its brand name awareness. It has newly produced several versions of the TV ad, and will air first at the Prosperb Media's network. For real estate investment information, call Abacus Realty & Loan at 510-353-0855. top
Mintel Learning Technology Signed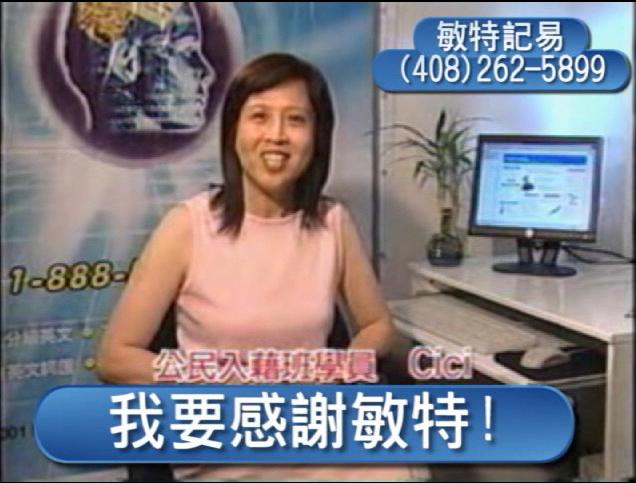 Mintel Learning Technology has signed with Prosperb Media to promote its revolutionary human learning Memory Engine - a system that improves child brain development, help seniors' longevity, rapidly increases student volcabulary, and dramatically improves English language skill for the new immigrants. Its effectiveness helps people in all walks of life to improve their everyday life. Call Advisor Liu at (408)262-5899. top
Galaxy Education Center Signed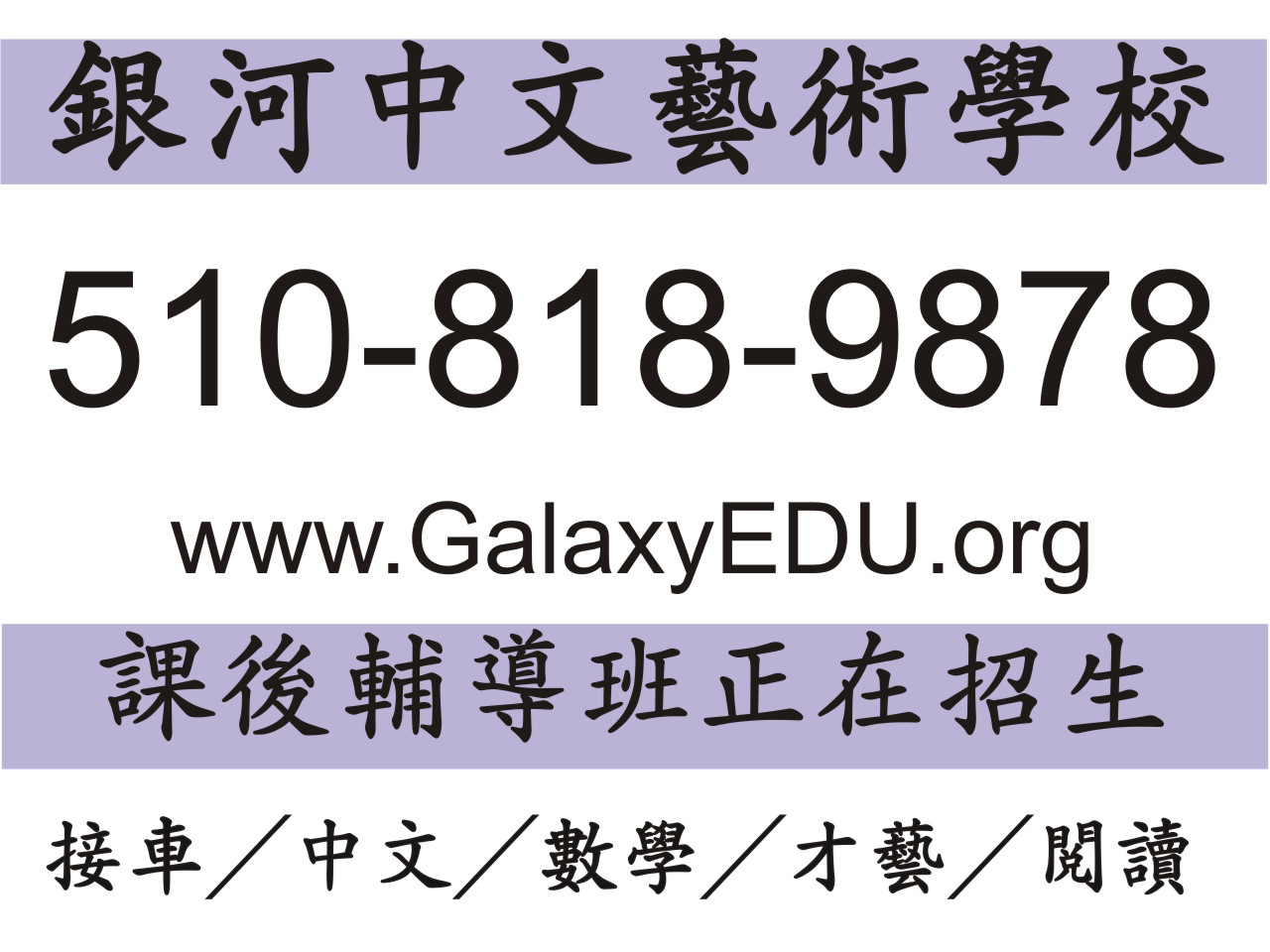 Galaxy Education Center has signed with Prosperb Media to promote its after school program. Galaxy Education Center is located at the Ardenwood school district in Fremont, and conducts Chinese, English, Math, crafts and other beneficial classes. Teachers from the school aslo picks up kids from their day schools to the center. Call (510)818-9878 for more detail. top
Rainbow School Signed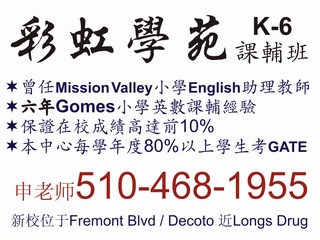 Rainbow School for age K-6 grade has signed with Prosperb Media to promote its learning program. The programs will help advance kids to top 10% of the class. 80% of participants in the program takes the GATE exam each school year. Call Mrs. Sun at 510-468-1955, or email RainbowSun55@yahoo.com. top
All Lightbox customers have choosen In-Store TV ads
Prosperb Media's lightbox customers all have choosen to get in our In-Store TV ads. They are: Dr. Diep, Guo Dental, Janet Xu insurance, Simon Kiang realty and Little Silivalleycon after scool program. Our customers believe the In-Store TV ad is a powerful medium, because it is up close and personal to the customer. top
Nikko Chuang Becomes The 1st Customer
Nikko Chuang, a realtor at Century 21 Neotech, has become the first customer of Prosperb Media 's big screen TV ad system. Nikko is a friendly and dedicated realtor, whose beautiful smile and great service has won her clients from Cupertino to Sacramento. She provides free market analysis and hosts regular seminars. Call Nikko at (510)317-7777. top
Grand Opening: In-Store Advertising TVs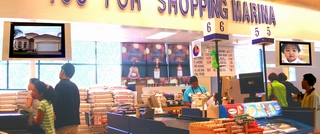 Prosperb Media has grand opened the 2 big screen TVs in Marina Food. These 2 TVs are 32" wide viewing angle super brightness flat panel LCD TVs. They are installed at the 2 pillars at the end of the checkout counters, and can be viewed clearly by all customers at each checkout counter, as well as customers awaiting to check out. We accept business ads and personal ads both. Have a new business to promote? Have wedding videos or baby pictures to share? Share them with your neighborhood audience. Call (650)238-8382 today. top
Prosperb Media To Open In-Store Advertising TVs
Prosperb Media has signed an agreement with Union City Marina Food to install and operate in-store advertising TVs. The TVs will be installed on 2 pillars at the end of the checkout counters, clearly viewable at all locations of the checkout counters. top
New Posters Up; Lightbox Sold Out
Productions of all advertiser posters are finished, and are now up and running in the lightbox. All spots at the Marina Food Lightbox are sold out for the year. Please can check with us for other upcoming locations. top
Chicago Title Signed; Lightbox Sold Out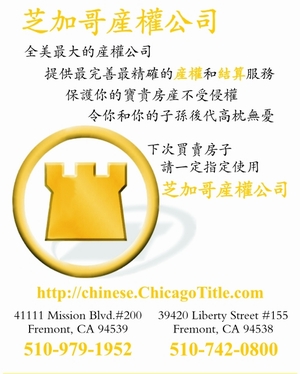 Chicago Title, the #1 title and escrow company in the nation has signed a service agreement with Prosperb Media on 6/2/2006. This is the highest profile contract at the Union City Marina Food location. We are very excited and pleased with this agreement, and believed the culture diversity steps that Chicago Title has taken will benefit the bay area Asian communities, the real estate industry and both of the companies.


With the signing of Chicago Title, the last spot at the Marina Food lightbox has been sold out for the year. Please check with us for other upcoming locations. top
Janet And David Long Term Insurance Signed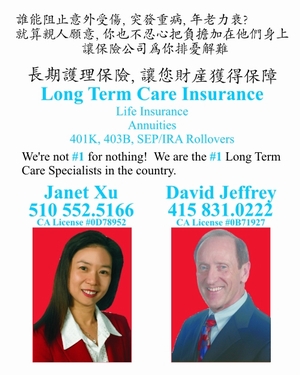 Janet Xu and David Jeffrey Insurance, the #1 Long Term Care specialists in the country, has signed a service agreement with Prosperb Media on 5/26/2006. We are very pleased with this agreement, and would be honor to bring the importance and necessity of long term care insurance to the minds of the Asian communities. No one can predict and prevent the unexpected, no one can work against age and nature. But long term care insurance can minimize the inconvenience and unhappiness brought to the family. Call Janet Xu or David Jeffrey today! top
Guo Dental Signed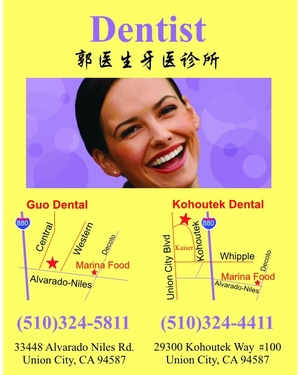 Dr. Anna Peirong Guo's dental office has signed a service agreement with Prosperb Media on 5/22/2006. Dr. Guo has been practicing at the Union City location for 5 years, and serving the diverse local communities with friendly and quality services. She has earned a great reputation of being fast, thorough, pressure-free, and pleasant at her work.

Besides her location at Alvarado-Niles Rd. & Central St., Dr. Guo is opening a brand new, state-of-the-art office at Kohoutek Way, across from the Union City Kaiser campus. Be the first one to visit her new location to enjoy the brand new comfy leather dental chairs and the lounge-like facility. top
Simon Kiang Real Estate Team Signed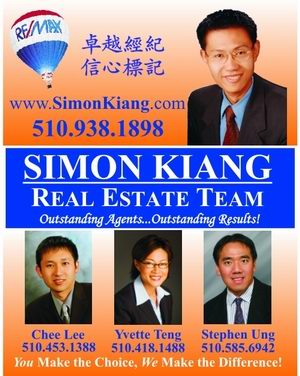 Simon Kiang Real Estate Team has signed a service agreement with Prosperb Media on 5/19/2006. We are very honor to have Mr. Simon Kiang and his team on board. For the past few years, Simon Kiang Real Estate Team has been the No. 1 Team at Union City, and the top 1% producer at the Alameda County. His friendly, honest and efficient services have been a trademark, and earn him business from customers and respects from the real estate industry. top
The Little Silivalleycon Signed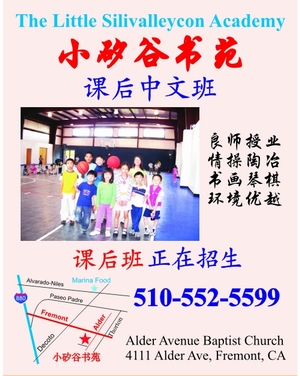 The Little Silivalleycon Chinese School has signed with Prosperb Media on 5/17/2006. We are very glad to be part of the education community and to help bridge the culture and language gaps of the young Chinese American.

Directed by Principal Mr. Henry Lin Deng, The Little Silivalleycon Chinese School has been in its 10th year, and has grown into a big after-school facility at the Alder Baptist Church. The facility has a full-size in-door basketball court, 5 classrooms and a music room.

The After-School program not only helps the children finish homework from their day school, but also teaches Chinese, music, caligraphy, physical exercises and other extracurriculum programs. The parents will be alleviated from the burden of teaching when they get home, and can spend 100% fun and quality family time with their child. top
Dr. Claire T. Diep Becomes The First Official Customer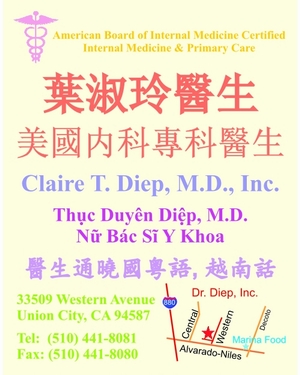 Dr. Claire T. Diep has signed with Prosperb Media on 5/15/2006. She is our 1st official customer at the Union City Marina Food Lightbox! We are very appreciative of the support from Dr. Diep, an American medical school trained physician, and an American Board certified doctor. She is extremely detailed oriented, friendly, warm and highly qualified. Her convenient location is reachable minutes within the city, a great place to get your medical needs fulfilled quickly even during lunch time. top
Grand Opening: Marina Food Scrolling Lightbox
The Marina Food Scrolling Lightbox at Union City has grand opened on May 5th, 2006. This large, beautiful, brightly backlit lightbox is trendy and stylish, and has attracted attention and rave reviews from patrons at the supermarket as well as passer-bys in the shopping center. Ms. Li, a patron at Marina Food, fixed her eyes on the lightbox while walking into the supermarket, nodding to herself and exclaimed: "This is very good!". top
Prosperb Media To Open Marina Food Scrolling Lightbox
The Marina Food Scrolling Lightbox at Union City is set to open on May 2006. This large, beautiful, brightly backlit lightbox is trendy and stylish. Your full-color, 4'x5', professionally produced ad will be seen by 15,000 store patrons each month, in addition to thousands of more passer-bys at the parking lot.

How big is my 4'x5' ad, you may ask? Your home's entry door is 3' x 6.5'. The Marina Scrolling Lightbox is the same square footage as that. The windshield of you car is about 2.5' x 4.5'. The lightbox is about twice as big. The biggest plasma TV you can buy at a store is 62", at 3'x5', but still not quite messured up to the lightbox. If they make a TV as big as this lightbox, it would be 82". That is big, isn't it?

What do I do now? There are only 6 spots. Reserve yours today before they fly off the shelf. Better yet, put your ad up there before your direct competitor can get to it. And then watch your ad runs 9,000 times a month at one low flat fee. It will make your name known to tens of thousands of local people who matter to your business. top